Open Early Stage Researcher/PhD Position Universiteit Twente (UTWENTE), Netherlands for the NL4XAI project
Reference number: NL4XAI- ESR9
PhD research topic: Personalized explanations by virtual characters.
Objectives: To define, implement and evaluate communicative strategies for the generation of interactive, personalized explanations by embodied conversational agents.
As a starting point this ESR takes the alignment mechanism that occurs in conversation between humans: the tendency to copy various aspects of each other's language such as syntactic structure and word choice, and to mirror each other's non-verbal behaviour. We will investigate whether using alignment to tailor the way explanations are presented to the user by embodied conversational agents, will improve comprehensibility and persuasiveness of the explanations.
The main use case will be the generation of explanations by virtual coaches in the e-health domain, building on the work in the currently running H2020 project Council of Coaches in which UTWENTE participates.
Expected Results:
Design of alignment-based, personalized explanation strategies for embodied conversational agents, based on studies of alignment in human communication.
Implementation of these strategies in one or more embodied conversational agents functioning as virtual health coaches.
Evaluation of the effects of personalized explanation strategies on comprehensibility and persuasiveness, based on human-agent interaction experiments in the e-health domain.
Small-scale implementation and evaluation of the above in the context of a secondary use-case to be developed in the inter-sectoral secondment in accordance with the stakeholder.
Host institution: Human Media Interaction research group, University of Twente- UTWENTE (Netherlands)
PhD Enrolment: University of Twente- UTWENTE (Netherlands)
The University of Twente stands for high tech and human touch; new technology which drives change, innovation and progress in society. The University of Twente is the only campus university in the Netherlands. Divided over five faculties we provide more than fifty educational programmes and give talented researchers scope for carrying out pioneering research. The faculty of Electrical Engineering, Mathematics and Computer Science (EEMCS) works together intensively with industrial partners and researchers in the Netherlands and abroad and conducts extensive research for external commissioning parties and funders.
Secondments: The ESR will enjoy three secondments of 3 months each at the premises of three project's members as detailed in the following table.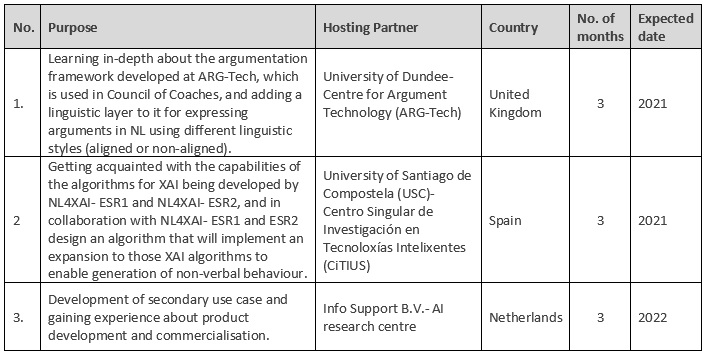 Supervisors:
Inter-sectoral Secondment Supervisor:
Prof. Chris Reed, Centre for Argument Technology (ARG-Tech), University of Dundee
Mr. Joop Snijder, AI research centre- Info Support B.V.
General requirements:
Mobility: At the time of recruitment, the researcher must not have resided or carried out his/her main activity (work, studies, etc.) in The Netherlands for more than 12 months in the 3 years prior to recruitment date. Time spent as part of a procedure for obtaining refugee status under the Geneva Convention is not taken into account.
Career: When starting their contract (expected in April 2020), selected researchers should be within the first four years of his/her research careers and not have been awarded a doctoral degree prior to the application.
The candidate must be working exclusively for the action
Specific requirements:
Degree: Master's degree in Computational Linguistics, Artificial Intelligence, Computer Science (with a specialization in language technology), or equivalent.
Experience in developing natural language applications, human-computer interaction, and computational modeling.
Programming skills: good programming skills, preferably in Java and/or Python
Language: Excellent command of English, together with good academic writing and presentation skills.
Desirable skills:
Background in psychology or psycholinguistics, experimental research, cognitive science.
Ability to work independently and as part of a team.
Strong motivation to pursue a PhD degree.
Strong interest in interdisciplinary scientific work.
Estimated starting date: 1st April 2020
Contract: Full-time contract
Duration: 36 months, including 3 secondments of 3 months each, at other consortium members' premises (see the Secondments section above)
Further information: In line with Dutch regulations, the ESR will be appointed for 4 years, with the fourth year being funded by the University of Twente.
Salary: Salary and conditions are in accordance with the collective labour agreement for Dutch universities (CAO- NU) and include a salary ranging from €2.325,- gross per month at the start to €2.972,- in the fourth year.
Application Documents:
Detailed CV in Europass format (template available in the following link) in English, highlighting the merits that are established as evaluation criteria;
Scans of BSc and/or MSc transcripts, with certified translation in English (if the degree qualification is not in English or in the language of the hosting country);
A motivation letter in English, highlighting the consistency between the candidate profile and the chosen ESR position/s for which she/he is applying and describing why you wishes to be an NL4XAI ESR to carry out a PhD;
Contact details or recommendation letters of two referees in English or in certified translation;
Scanned copy of valid identification document;
Proof of excellent command of English (e.g., IELTS, TOEFL, Cambridge or equivalent). This is not required in case of native English speakers (i.e., English is your mother tongue).
In addition, you can add any other documents which you find relevant for the applications such as Master thesis, publications or project reports.
Evaluation criteria:
Academic background (up to 40 points)
Knowledge and specific achievements (up to 35 points)
Personal interview, only for candidates achieving a minimum of 55 points (up to 25 points)
Deadline: February 14, 2020, at 23h59 CET (UCT + 01:00)
Enquiries about research content must be sent to the main PhD supervisor via email (see contact details in Supervisors section).
Closed