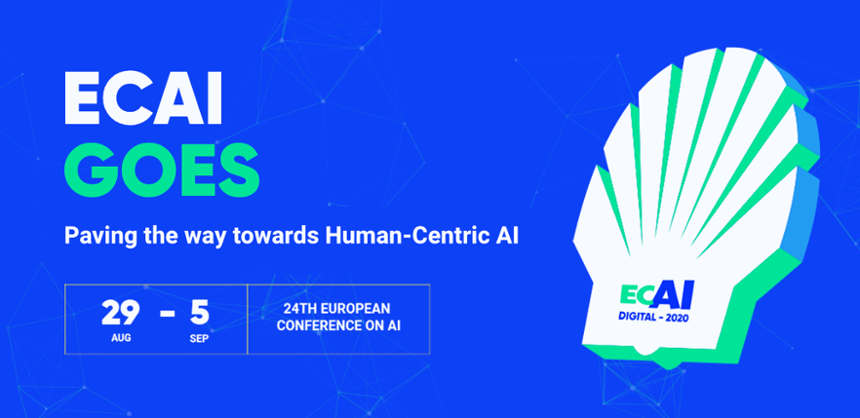 Date
Aug 29 2020

- Sep 05 2020
Expired!
ECAI 2020 – Mentoring and Communication for Starting Researchers (MC4SR)
Mentoring and Communication for Starting AI Researchers (MC4SR) is organized under the umbrella of the 24th European Conference on Artificial Intelligence (ECAI 2020), to be held in Santiago de Compostela, Spain, August 29- September 5, 2020. Due to covid-19 outbreak, ECAI2020 will be fully online. The MC4SR registration is free of charge.

The MC4SR multidisciplinary program is specifically addressed to Starting AI Researchers and will feature several training activities which include:
Doctoral Consortium (DC) (29 – 30 August)
STAIRS 2020, the 9th Starting AI Researchers Symposium (STAIRS) (29 – 30 August)
Meeting with an EurAI Fellow (31 August, 1 September and 3 September)
Job Fair (2 September)
The Doctoral Consortium (DC) provides an opportunity for Starting Researchers to discuss their research interests and career objectives with established researchers in AI, to do networking with other participants, and to receive mentoring about career planning and career options. Detailed programme is available here.
Moreover, the call for participation in the Doctoral Consortium is open. All participants can attend both training and mentoring sessions, but only those with an accepted abstract will have the opportunity to present their work in the mentoring session and receive feedback from senior researchers. The best presentations will be awarded. Notice that, application deadline is June 20: https://easychair.org/conferences/?conf=ecai2020dc
The 9th European Starting AI Researchers' Symposium (STAIRS) is an international meeting intended to support Starting Researchers (those that have not been awarded a doctoral degree but also researchers with not more than three years of experience after getting their PhD). STAIRS is collocated with the ECAI2020 tutorials and workshops and has an independent program committee. In this edition, it will include two invited talks, as well as oral and poster sessions. Further information is available here.
ECAI 2020, the 24th European Conference on Artificial Intelligence, is Europe's premier AI Research venue. Under the motto "Paving the way towards Human-Centric AI" ECAI provides an opportunity for researchers to present and discuss about the best AI research, developments, applications and results.
The Conference is supported by the European Association for Artificial Intelligence (EurAI), the Spanish AI Society (AEPIA) and organized by the Intelligent Systems Group (GSI) and the Research Center on Intelligent Technologies of the University of Santiago de Compostela (CiTIUS).